SEO means optimizing your content so it shows up more often in search results.
Did you know 93% of experiences on the Internet start with a search engine? So what happens after someone makes a search?
If they land on Google's first page of search results, they have a 33% chance of getting clicked. 75% of people won't even click on the second page of the search results.
What!?!?
Thankfully, there are some things you can do to increase your chances of ranking higher on a Google search. This means increased website traffic, more conversions, better lead generation, and boosting your sales.
Ready for the 10 tips to boost your SEO? Here we go.
1. Improve your page load speed
If your page load speed is slow, Google will recognize this, and it will harm your rankings.
A slow website will also impact your website visitor's engagement. As a result, those negative interactions will hurt your rankings as well.
See how abandonment rates increase for websites with long page loading times: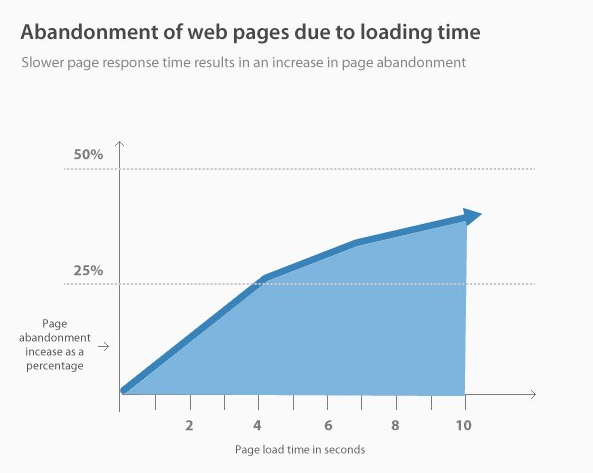 So how slow is too slow?
Research shows 40% of visitors will abandon websites if the page takes longer than 3 seconds to load.
What's even more shocking is that 80% of those visitors won't return to that website.
This is terrible for your SEO ranking because it ultimately kills traffic to your site.
On the flip side, if your website loads fast, people will keep coming back and Google's algorithm will recognize your website's popularity and adjust your search ranking accordingly.
If you want to test the speed of your website, there are several FREE online platforms where you do this.
We recommend using GTmetrix or Google's Page Speed Insights.
If your website is running slow we recommend fixing the issues the speed tests revealed. This could mean optimizing or offloading your images, removing code-blocking plugins, and/or using a CDN (content delivery network) to boost website performance.
2. Optimize your images
Images are great for your website.
But they need to be optimized properly if you want them to improve your SEO ranking.
Optimized properly is referring to the file format and size of your images.
Huge images slow your page load times and hurt your ranking.
You can easily resize or compress your images to optimize them. If you are using WordPress, there are plugins you can install to help you with this. If you use a plugin make sure it plays nice with your theme and make sure you test it. Not all plugins play nicely together.
You can also use your images to sneak in keywords by naming them accordingly.
For example, let's say you have a website that sells sheets or other bedding products.
Instead of naming an image something like "sheet-01," you could name it "softest-sheet-for-queen-bed."
3. Create a blog
Blogs are great for your business because they help you engage with your website visitors and create leads.
What most people do not realize is that blogging also improves your SEO rankings.
Creating fresh, updated, and relevant content can drive people to your website. You get bonus points if your article links to other parts of your website, internal links since that gives people a reason to stay awhile.
All of this impacts your search engine ranking.
4. Optimize your website for mobile
Over 60% of Google searches come from mobile devices.
Obviously, Google knows this and ranks sites accordingly. So your website has to be optimized for mobile users.
If your website isn't optimized, it will hinder the user experience, and tank your ranking.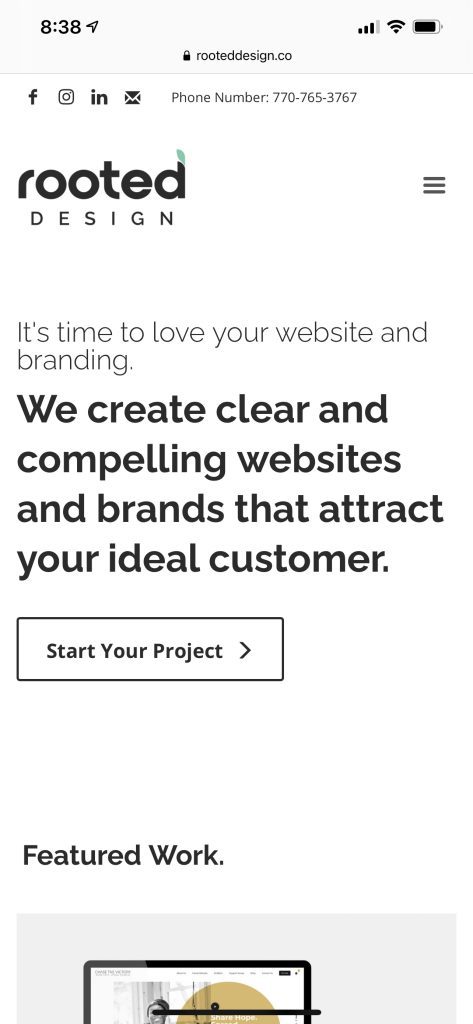 5. Use keywords
Keywords are words and phrases that searchers use to search for content online. In other words, they are ideas and topics that define what your content is about.
You will want to include keywords throughout your content but do it sparingly.
If you go overboard with your keywords, Google will notice and it will have a negative effect on your ranking.
Your keywords should fit naturally into sentences. Be sure to include them in your header tags and image captions.
You can also use long-tail keywords, which are three or four-word phrases that can be found in a search.
For example, someone probably won't just search for the word "microphone" when they're looking for something.
But they may type in the phrase "best microphone for podcasting" as an alternative.
If your keywords match their search, your website will have a greater chance of getting ranked higher.
6. Set up Google My Business
Local SEO is important and the best way to boost your local SEO is to set up an account on Google My Business.
Google My Business allows you to edit information about your business, verify contact information, add images, monitor reviews, and more.
This is a powerful took that you should not ignore and it is free.
7. Add an SSL certificate
An SSL certificate is the lock icon in the address bar of your website.
The benefit of an SSL certificate is that your customers/clients feel secure on your website.
If your website is not secure your ranking will be negatively impacted.
The good news is most hosting companies provide a free SSL certificate with your hosting plan.
8. Create a sitemap
A sitemap is a digital map of your website.
It ensures all of your content and every page appears in search results.
You can create and submit a sitemap of your website using Google Search Console.
9. Take out any unnecessary code
Code is great, but having too much of a good thing can make it bad.
In this case, if your website has excess code, it will take search engines longer to crawl your website which is bad. On-page JavaScript and CSS are among the main offenders.
Make sure your code is as lightweight as possible. This will also help with your page load time and as we learned earlier a faster load time means better SEO.
10. Connect to Google Analytics
Google Analytics allows you to see how visitors find your website and what pages they visit most.
Google Analytics is not going to boost your SEO.
It helps you learn what SEO changes you have made are working and what pages need improvement.
---
Once you implement our 10 tips to boost your SEO you will begin to see improved rankings. If you would like help improving your SEO, fill out our contact form and we would be happy to set up a discovery call.